A Prayer of Determination to Praise God - Your Daily Prayer - June 26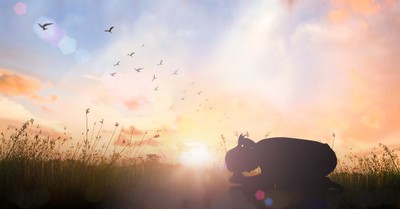 By Tiffany Thibault, Crosswalk.com


A Prayer of Determination to Praise God
By Tiffany Thibault
"I will give thanks to the LORD with all my heart; I will recount all of your wonderful deeds. I will be glad and exult in you; I will sing praise to your name, O Most High. " - Psalm 9:1-2
I will. These two words, when spoken, proclaim that you will do what you say no matter what. This writer of this verse used these words of absolute commitment four times in these two verses. Choosing to follow the Lord and to live a life that honors Him is a wholehearted, life-changing determination and it begins with the words "I will."
As we choose to live a wholehearted life for the Lord, we can see that these verses give us four things that we can do each day as we worship the Lord with our lives, as we make the determination to state our "I will" in our relationship with the Most High God.
1. Give thanks with ALL my heart.
The Lord has done so much in our lives. He has forgiven us, accepted us, loved us, guided us and is preparing a place for us in Heaven for eternity! As we reflect on all that He has done, every single part of our heart should be overflowing with thankfulness to Him.
2. Recount all His wonderful deeds.
It is important that we remember what the Lord has already done in our lives and to tell others about it. It strengthens our faith and encourages others around us to think more about their relationship with the Lord.
3. Be glad and rejoice in Him.
When we are grateful and remember what He has done for us, we are glad. We thrill at who He is and we begin to see how He is moving in every area of our life, filling us with even more joy.
4. Sing praises to Him.
He is worthy of all honor and praise! We need to fill our thoughts and hearts with songs of worship to Him. Fill your days with praise music that glorifies God. Praise Him for what He has done in your life. He is worthy. He is good. He deserves our praises.
Today is a perfect day to recommit yourself to the Lord by stating "I will'' as you give thanks to Him and tell others how amazing God is. Today is a perfect day to choose to be glad and rejoice in Him as you sing praises to Him. We can make the determination to praise God regardless of how messy our life may be, because He is with us. He has helped us in the past, and He will most certainly help us through whatever we are struggling with right now. As we make the determination to praise Him, our hearts and focus will be on Him and our hearts will be full of joy and song, knowing that He is there with us through it all.
Let's pray:
Dear Lord,
Today I lift up a prayer of praise to you. You have been so good to me. Thank you for all that you have done in my heart and life. Bring to my memory all the wonderful things that you have done in my life so that I can be filled with gladness and rejoice in your goodness. I will sing praises to you. You are good. You are the Most High God. Thank you for saving me, for guiding me, for filling me with joy as I spend time thanking you for all you have done and all that are doing in my life today.
In Your name, Jesus, I pray,
Amen
Photo credit: ©Getty Images/Boonyachoat
Tiffany Thibault is the author of the Bible study "Being Fruitful;" she loves leading Bible Study and speaking to women, encouraging them through truths from the Bible. She lives in the Mojave desert with her family and loves to explore the wilderness areas around her city.
Want more Your Daily Prayer? We also have a podcast! This podcast is different than the written devotional you just read, but carries the same commitment to a closer look at Scripture each day. You can find out more by clicking the link below!
Now that you've prayed, are you in need of someone to pray for YOU? Click the button below!

Visit iBelieve.com for more inspiring prayer content.