Finding Happiness - Truth For Life - May 27
Crosswalk.com

But the one who looks into the perfect law, the law of liberty, and perseveres, being no hearer who forgets but a doer who acts, he will be blessed in his doing.
Genuine happiness is to be found in following the pathway of obedience.
This is not the way the world sees it. In 21st-century Western culture, personal happiness and obedience to an authority are held to be mutually incompatible. But the Bible is clear: it is by obeying that we find ourselves "blessed."
So how do we take this path?
The first step is simple: look intently into God's word. The word James uses for "look," parakupsas, is the same word used elsewhere to describe a looking that is not mere glance but rather a careful, considered focus (for example, 1 Peter 1:12; John 20:5, 11). To benefit from the Bible, we need to have a genuine desire to miss nothing of its truth and a genuine willingness to consider carefully what we are reading.
Second, make your study of the Bible one of steady perseverance rather than a burst of enthusiasm followed by chronic inertia. We are called to meditate on the law day and night (Psalm 1:2) and to keep returning to God's word as our source of insight and understanding (Proverbs 2:1-5). As we do this we will notice, over time, that we are living more and more in line with God's word and are more and more able to discern how God's word applies in the situations we find ourselves in.
Third, act on what you read. If the word of God calls us to action but we give no expression to that, then it should be no surprise when we find ourselves disappointed and disheartened. Blessing is found not merely in reading God's word but in living it. Ultimately, we are to respond obediently by doing what we have heard God say.
The formula that James gives is straightforward: Hearing plus doing equals blessing. We see this principle throughout the Bible, including in the very words of Christ Himself. After He had washed the disciples' feet, Jesus turned to them and said, "If you know these things, blessed are you if you do them" (John 13:17). Knowledge, in other words, should lead to action, and the blessing is directly related to Spirit-empowered doing.
To help you look intently at what the Bible says, ask simple questions: What does this passage teach me about God the Father, God the Son, and God the Holy Spirit? What does this passage teach me about myself and what sin to avoid, what promise to accept, or what command to obey? As you continue along the pathway of obedience through God's enabling grace, the truth of His word will find a resting place in your heart and mind, and you will discover the freedom and blessing of a life lived God's way in His world.
As a thank-you from us for your gift, we'll send along this month's resource: How Christianity Transformed the World by Sharon James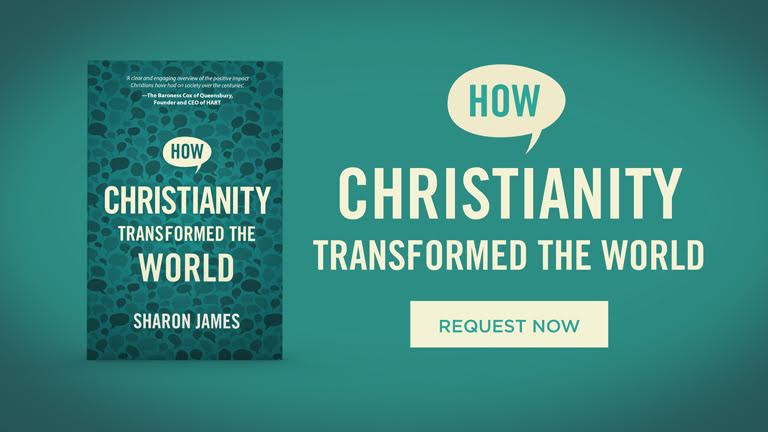 Click here to learn more about Truth For Life
Devotional material is taken from the Truth For Life daily devotional by Alistair Begg, published by The Good Book Company, thegoodbook.com. Used by Truth For Life with permission. Copyright © 2021, The Good Book Company.