What God Can Do with Our Suffering - iBelieve Truth: A Devotional for Women - May 25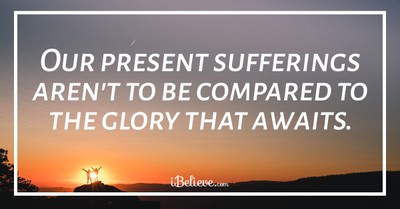 Crosswalk.com

What God Can Do with Our Suffering
By: Lindsay Tedder
"I consider that our present sufferings are not worth comparing with the glory that will be revealed in us." - Romans 8:18
I have a pretty spot-on, artificial southern accent. In the past, I've been known to order food from a drive-thru with the deep drawl of the south in my mouth, as my friends make their best attempt at stifling their laughter. When my husband and I were dating, I would joke that as soon as we had kids, we were moving south so they could call me "mama" in that thick-as-molasses cadence.
My affinity for all things southern hit a real peak when I was deciding what college to attend. I found a very small private university in a tiny mountain town in North Carolina and it was love at first visit. It was all sweet tea and southern hospitality. I was hooked and couldn't imagine my life anywhere else.
Within the first week of school I knew something was a little "off," but I couldn't pinpoint it. I was 18 and had never lived on my own. Being hundreds of miles away from home made me feel free; as if the drama I had left behind didn't exist. I moved to a place where I knew nobody and not a single person knew anything about me. There was no historical playbook of my actions or anyone to gossip about the person I once was. The proverbial slate had been wiped clean and I could be whoever I wanted.
Yet, I found myself floundering; unsure I could handle the pressure of creating my own destiny. I began drinking excessively and missing classes. Within the first month of college I knew this wasn't for me. I wasn't supposed to be here. Six weeks into the first quarter, I left on the "decide to stay date." I had decided not to stay. It was a sad day when my friends shoved as many of my belongings that would fit into my 1997 Chevy Malibu and watched me drive away. I spent the nine-hour drive contemplating how to get my life back, you know, the one I so desperately wanted to abandon just six short weeks ago.
When I returned home, I was able to get my old job back and enroll in the local university. I came back to the drama, the gossip, and the lack of ambiguity. While the pressure of creating my own destiny had made me feel overwhelmed and insignificant, the looks of judgment from the people of my past made my heart almost too heavy to bear.
And then, while watching a movie that perpetuated my love for the south, Sweet Home Alabama, 19 words hit my ears and etched themselves onto my heart forever:
"Some people might call 'em spoiled, but I think that these almost ruined ones sometimes make the sweetest jam."
Throughout my life, I have had moments that have almost ruined me.
Almost.
I have been hurt, abused, abandoned, neglected, rejected and none of it has been wasted. My God has taken what has almost ruined me and turned it in to the sweetest jam.
The verse above says that our present suffering is not worth comparing to the glory that will be revealed in us. Before escaping my reality by venturing to that perfectly southern university, I had been horrendously manipulated, lied to and about, abandoned by nearly every friend I had, rejected and humiliated by teachers at my Christian school, and nearly ran over by a vehicle that a former friend was driving.
Like those plums in Sweet Home Alabama, I was almost ruined. I had briefly escaped in an attempt to create my own destiny and was very quickly reminded that I need not be there. I returned to the scene of my unraveling. That return led me immediately to my now-husband. That return led me to be surrounded by the most incredible humans who I am honored to call friends. That return led me to the miracle that is my adopted son. That return led me to fulfill my destiny, not create it. That return led to my sweetest jam.
"I consider that our present sufferings are not worth comparing with the glory that will be revealed in us." - Romans 8:18
When I read the words in this verse, I am reminded of the suffering of those high school days. I am reminded of the suffering of infertility. I am reminded of the suffering of parenthood. And then I am reminded that these sufferings are not even worth comparing to what my God can do with them. He took my almost ruined fruit and turned it into the sweetest jam.
When I stopped trying to create my own destiny, I could finally allow God to fulfill His destiny in my life.
---
Lindsay Tedder is a believer, wife, mom, bestie and writer who lives in Columbus, Ohio with her bearded, bourbon-loving husband and her too-cool-for-school toddler. She is full of raw honesty, enthusiastic authenticity, amiable compassion, humble grit, powerful passion…and outrageous laughter, double chins, real life, and frothy nectar-of-the-gods coffee…because…coffee. Raised by a hardworking single mom, she overcame such trauma as sexual abuse-induced food addiction, the debilitating health issues associated with endometriosis, a decade of infertility, and recurring life themes of worthlessness. Connect with her at www.LindsayTedder.com.
Looking for authentic conversations about how to deal with body image, insecurity, and comparison issues as a Christian woman? The Compared to Who? Podcast is the show for you! Twice a week, we tackle tough topics like dieting, disordered eating, weight loss, aging, body dysmorphia, and more from a practical, grace-filled, gospel-centered perspective.