Come as You Are This Easter - Easter Devotional - March 19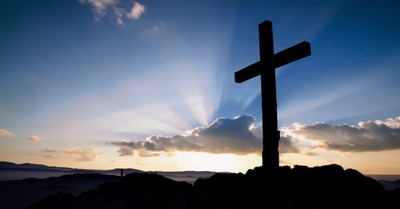 Crosswalk.com

"He will send down help from heaven to save me because of his love" (Psalm 57:3a TLB).
There's a myth that says you've got to clean up your act before you can come to God: "I've got to get it all together. There are a few things I've got to get right in my life first, and then I'll come to God."
It's like brushing your teeth before going to the dentist to have your teeth cleaned or washing the dishes before you put them in the dishwasher or picking up the house before the maid gets there! Why do we do this?
The truth is, God doesn't expect us to clean up our act before we approach him. The death and Resurrection of Jesus is God's statement on that. Jesus spread out his arms and said, "I love you this much. Now, just come as you are."
In Psalm 57:3, the Bible says, "He will send down help from heaven to save me because of his love" (TLB). That's what Jesus did on Easter. And that's why we can bring our messes and failures to God.
There are people you know who think God will never love them because they've made such a mess of their lives. But you know God wants them to come as they are. Help them hear the Good News from Jesus. Invite them to come to church with you this Easter. It's such a simple thing to do, but it can make a difference that will last for eternity.
Play today's audio teaching from Pastor Rick >>
Talk It Over
What messes from your past do you have a hard time believing that God can forgive?
Who do you need to invite to Easter service so that he or she can hear the Good News of God's love and grace?
Why do you think people feel like they have to clean up their lives or their appearance before they even walk through the doors of a church?
For more Daily Hope with Rick Warren, please visit pastorrick.com!
---
Discover the Depth of Jesus' Love for You This Easter
Experience the Passion of Christ in a more powerful way with Pastor Rick's beautifully illustrated book, Journey with Jesus.
Join Pastor Rick as he traces Jesus' journey through Jerusalem to Calvary—the most meaningful path Jesus walked while on Earth.
As you flip through the book's rich, glossy photographs and colored mosaics, you'll:
• Uncover biblical and historical insights into the most important event in history
• Gain a deeper understanding of Christ's love for you
• Experience a new sense of joy and peace in God's presence
This one-of-a-kind resource is only available through Daily Hope—and it's our thanks for your gift below to help Daily Hope take the love of Jesus around the world.
Thank you for your partnership!
*The USA IRS code permits you to deduct the amount of your financial gift to Daily Hope that exceeds the fair market value of materials you received from Daily Hope.

This devotional © 2018 by Rick Warren. All rights reserved. Used by permission.
You can listen to Rick Warren on OnePlace.com.