3 Ideas to Help Your Kids Learn the Spirit of Giving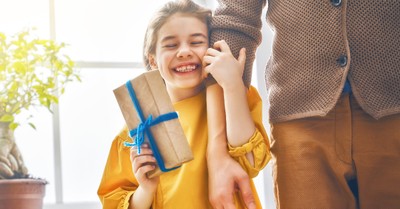 By Jaime Jo Wright, Crosswalk.com
It's the season of "I want"! Have you heard this in your house lately? In fact, the other day, my kids sent me links to their Amazon wish lists. (insert eye roll here) I thought buying Christmas gifts was an opportunity to be creative and thoughtful and really consider something special. Now it's a check off this list wish list that's often met with the entitled cry of a child on opening, "it's what I wanted!" Or - if you're unlucky, "I didn't want this!"
So along with Christmas getting, it's a time to teach our kids the spirit of giving. That old-fashioned concept that it's better to give than to receive goes out of style really fast, and even as adults, we can forget it. I'll admit to dropping hints for a metal detector for Christmas this year—I know, that's on everyone's wish list. I had that moment of, "wouldn't it be fun to find one under the tree"?
And that's okay! It's part of Christmas. The giving and the receiving. But we certainly don't need to give our kids lessons on the spirit of receiving. That one is instinctively covered.
So here are three ideas to help you teach your kids how to give this Christmas:
1. Donate Your Time
This is not a new or even a fresh idea. The spirit of giving is often taught by having our kids volunteer with us to ring bells or serve food at a local shelter, or pack bags at a food pantry.
But let's think about this. Not to be devious, but are you picking charities that perhaps you want to serve at? Not that it's a bad thing, but if your kids enjoy serving there, it may be worth evaluating to make sure their act of service doesn't have an underlying personal gain.
Here's an example: I had been volunteering at a local food pantry for some time and taking my remarkably eager children with me to help. When I explored their motivations further, I discovered they'd been given free rein to fill their pockets with donated candy. This was their reward, in some respects, but in the end, it became their motivation. Not the service itself, but the fact that with a little effort, they could gain a lot of sugar—and cavities.
On the contrary, when it was suggested to spend time serving ringing bells on a day dipping into the teens on the temperature gauge, there was little motivation to be of assistance. There was no personal gain involved—at least that they could fathom.
So when you choose to donate your time with your kids to help teach them to serve, this is a good time also to teach that service often comes with sacrifice. Sometimes service isn't fun, it isn't personally rewarding in a tangible way, and it isn't glamorous. Help them look for the essence of service in the faces of those who donate or those in need who receive. Help them serve in a place where their sacrifice is for someone else's gain.
2. Consider a Personal Gift
Consider challenging your kids to give a personal gift that costs them their own money. Too often, kids are willing and ready to spend our money to fill shoeboxes or to get that kid in class a gift. That's great that they're willing to do that and even notice those needs! But take the challenge a step further. Challenge them to save their allowance, or use their own gifted money or hard-earned money, to fulfill these needs themselves.
If you're filling a shoebox this Christmas, encourage them to pick one item out that they use their own money for. Littler kids may only have a dollar. That's okay! There's a dollar store near you; I'm pretty sure. Older kids may have more—so stretch them a bit. They don't need to use their entire savings. Just enough to feel the financial pang a little while experiencing the element of sacrificial giving.
3. Education Is Key
Sometimes forcing the act of service or sacrifice can backfire. Some children simply do not learn by being coerced or required to give. Instead, sometimes we need to teach literally through an academic form of education—perhaps paired with the eventual act of service and sacrifice.
Consider, this Christmas, taking your children through some studies on what it means to give self-sacrificially. For smaller children, many picture books and even religious shows portray what it means to give to others at the cost of yourself. There are devotional materials for older children, even movies that portray Christmas in a sacrificial way. These can help communicate the concepts of giving in a way that forcing them to ring a bell may not.
Challenge teenagers to find their own materials and bring them to you to share with them. They can find a movie that portrays self-sacrificial giving, or maybe a book, or perhaps they look for examples in the real world that they can present to you.
I remember when I was a child, my mom donated our time in service. I got the point, but I didn't like the point. Until one afternoon, we watched a movie—it wasn't even a Christmas movie—but it was a story that touched my heart about sacrifice for another. After that, I put the pieces together in my own mind, and service became something I didn't mind doing—well, at least not as much.
Giving often requires sacrifice. Sometimes it doesn't! Sometimes we're blessed with the resources to give liberally—and if that's your scenario, then consider yourself blessed. More often than not, it costs us time, energy, finances, patience, and so much more to give.
In the end, our example will help set the stage for our children to learn how to give. If our attitudes and hearts aren't in the right place, then they will not have much hope of learning a cheerful, giving spirit. But if we can approach giving in the same way Christ approached giving at Christmas—the giving of Himself—then that is a valuable lesson that will carry on with our children long after we are.
It will carry on into generations and set the stage for kindness and humanity, and love to not disappear into the season of "I want," "I need," or "I have to have."
Last but not least, consider asking your child to look for one opportunity or person they can bless this Christmas season. That's it. That's all. Challenge them to just look for it. Then watch to see what their eyes uncover, what touches their spirit, and what inspires their heart to give. Sometimes, our kids don't need as much teaching as we thought. They just need permission to give and encouragement to go into the world and be a light.
May our children be lights in a world so desperately in need of giving hearts.
Photo Credit: ©iStock/Getty Images Plus/Choreograph
Jaime Jo Wright is an ECPA and Publisher's Weekly bestselling author. Her novel "The House on Foster Hill" won the prestigious Christy Award and she continues to publish Gothic thrillers for the inspirational market. Jaime Jo resides in the woods of Wisconsin, lives in dreamland, exists in reality, and invites you to join her adventures at jaimewrightbooks.com and at her podcast madlitmusings.com where she discusses the deeper issues of story and faith with fellow authors.
Parents: Need Help Navigating Our Crazy Culture with Your Kids? Listen to Our FREE Parenting Podcast!
Christian Parent/Crazy World with Catherine Segars is available wherever you listen to podcasts. Listen to our episode on battling for your kids in prayer by clicking the play button below:
The views and opinions expressed in this podcast are those of the speakers and do not necessarily reflect the views or positions of Salem Web Network and Salem Media Group.
Related video:
Are you in the trenches with your toddlers or teens? Read Rhonda's full article here!