What to Do If Someone Is Caught in Sin (Galatians 6:1-2) - Your Daily Bible Verse - August 17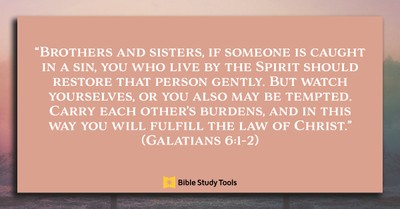 Crosswalk.com

What to Do If Someone Is Caught in Sin (Galatians 6:1-2)
By Jennifer Waddle
"Brothers and sisters, if someone is caught in a sin, you who live by the Spirit should restore that person gently. But watch yourselves, or you also may be tempted. Carry each other's burdens, and in this way you will fulfill the law of Christ." (Galatians 6:1-2)
Turn on the nightly news or scroll through social media longer than five seconds and you'll probably feel your blood pressure begin to rise. Arguments, opinions, and derogatory statements are filling every inch of the media these days, and for many of us, it's making us mad!
We long for the days when people minded their own business, worked hard, and got along. (Were there really days like that?) Tired of the back-and-forth banter that goes nowhere, we find ourselves in the middle of the mess, wanting the madness to stop.
Then we remember Paul's words to the Galatians when he said, "If someone is caught in a sin, you who live by the Spirit should restore that person gently."
Gently? You mean, we are supposed to be gentle and kind when dealing with people caught in sin? But what about putting people in their place? Isn't that a noble thing to do? After all, wouldn't the world be a much better place if people lived like we think they should?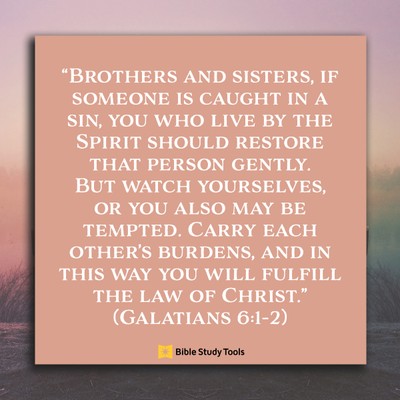 Paul went on to say, "If anyone thinks they are something when they are not, they deceive themselves. Each one should test their own actions. Then they can take pride in themselves alone, without comparing themselves to someone else, for each one should carry their own load."
The clear message of humility cannot be mistaken in Paul's words. Yet, humility is the last thing we are thinking about when something makes us angry. As we watch sin grow rampant in our nation and across the world, we feel helpless to stop it. And we wonder how much longer we'll be able to bear it.
If you're feeling frustrated at everything going on around you, I encourage you to take some time away from the noise. Turn off the television and social media, and get away for a period of time. Commit to prayer and Bible study, asking God to soften your heart towards those who are caught in sin.
Then, as you return to the "madness," seek out one person who is struggling and approach them gently. Share with them the ways you used to struggle and how Jesus delivered you. Try to approach the current times with a heart of compassion and wisdom instead of anger and opinion. I believe this is the way real change will happen.
Yes, there might be times when God calls us to do or say some hard things. When those moments come, His Spirit will equip us with words and actions for the moment. But for now, let's be voices of wisdom, love, and hope. Let's exchange anger for reason, restoring people back to who they were created to be.
If you find yourself saying, more often than not, "It makes me so mad," I encourage you to read the first ten verses of Galatians chapter six. It will put things into perspective and remind you to "do good to all people, especially to those who belong to the family of believers."
---
Jennifer Waddle is the author of several books, including Prayer WORRIER: Turning Every Worry into Powerful Prayer, and is a regular contributor for LifeWay, Crosswalk, Abide, and Christians Care International. Jennifer's online ministry is EncouragementMama.com where you can find her books and sign up for her weekly post, Discouragement Doesn't Win. She resides with her family near the foothills of the Rocky Mountains—her favorite place on earth.
We want to experience God through the Bible… we really do!
But our good intentions fall flat when reading the Bible just doesn't seem to help us experience God in a real way. What should feel alive often feels confusing and boring and irrelevant. But it doesn't have to.
In the How to Study the Bible podcast, pastor and Bible teacher Nicole Unice brings life back to reading the Bible by walking listeners through her Alive Method of Bible study, helping us personally encounter God through his Word by giving us a practical, clear road map for understanding, interpreting and applying Scripture to our lives. Just click below to start listening now!