Navigating Crossroads in Life - The Crosswalk Devotional - March 18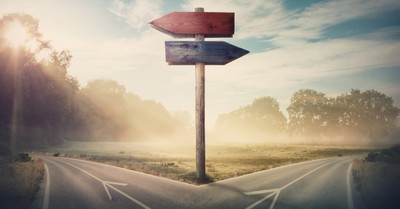 By Lynette Kittle, Crosswalk.com


Navigating Crossroads in Life
By Lynette Kittle
"The path of the righteous is like the morning sun, shining ever brighter till the full light of day - Proverbs 4:18
Growing up, my husband's family with seven children attended a small mainline Protestant church in their tiny community. However, when his aunt and family left it to attend a Christian and Missionary Alliance Church 15 miles away, his family soon followed suit. He's not sure why his aunt and family left, but this decision set his and his family's lives on a new path. His new church focused on Salvation and new life in Christ, which started making lasting changes within his family, one being his dad dropping old habits and making changes for the better.
Likewise, his Mom became active in various church groups, making sure her children participated. Soon he and his family were attending church every time the doors opened, including Sunday morning and evening services, Wednesday evening meetings, Youth Group, Vacation Bible School, Mission conferences, and everything in between. But most of all, he remembers accepting Jesus Christ as his Lord and Savior and how that decision dramatically changed the course of his life and the lives of his family, too.
The Narrow Road
Scripture describes, "But small is the gate and narrow the road that leads to life, and only a few find it" (Matthew 7:14).
Like Robert Frost's poem, "The Road Not Taken" reminds us.
Two roads diverged in a wood, and I,
I took the one less traveled by,
And that has made all the difference.
We all come to crossroads in our lives where we have to decide which road to take. Like my husband's family, these choices impact not only us but those around us and even those we haven't even met yet. Which paths we choose leads us to whom we'll marry, where we'll live, what kind of work we'll do, and so much more.
As Joshua 24:15 explains, how we all have to choose which path we'll take. "But if serving the Lord seems undesirable to you, then choose for yourselves this day whom you will serve, whether the gods your ancestors served beyond the Euphrates or the gods of the Amorites, in whose land you are living. But as for me and my household, we will serve the Lord."
Turning Points
Each crossroad gives us an opportunity to choose which way we'll go. And each choice will determine not only our personal course but which way our descendants will go afterward, too. This is especially true when a person accepts Jesus as his or her Savior. Deuteronomy 7:9 explains how, "Know therefore that the Lord your God is God; He is the faithful God, keeping His covenant of love to a thousand generations of those who love Him and keep His commandments."
Who Do You Think You Are? television show highlights how whether they know it or not, the present-day generation's lives have been dramatically influenced by the path their previous family members took decades and hundreds of years before them. Each episode traces several individuals' genealogies, discovering hidden heritage, along with solving unanswered questions they've had about their past relatives.
The show often fills in the gaps of a person's lineage, where family history hasn't been passed down through the generations. It traces and reveals how one's past relatives' decisions at critical times in their lives set future generations and their family's destiny on specific courses.
God Sets Our Pathways
However as Christians, we don't have to make these decisions on our own because we have God's Word and the Holy Spirit to lead us. Proverbs 3:5,6 explains, "Trust in the Lord with all your heart and lean not on your own understanding; in all your ways submit to Him, and He will make your paths straight." As well, Psalm 16:11 assures us that God will lead us toward His plans for our lives. "You make known to me the path of life; You will fill me with joy in Your presence, with eternal pleasures at Your right hand."
Intersecting Faith and Life:
Are you facing any upcoming crossroads in your life? You don't have to decide which path to take on your own. Ask God to lead you, establish your steps, and give you His wisdom and insight into which path to choose.
Further Reading:
Photo credit: ©Getty Images/Bulat Silvia
Lynette Kittle is married with four daughters. She enjoys writing about faith, marriage, parenting, relationships, and life. Her writing has been published by Focus on the Family, Decision, Today's Christian Woman, kirkcameron.com, Ungrind.org, StartMarriageRight.com, and more. She has a M.A. in Communication from Regent University and serves as associate producer for Soul Check TV.

Check out fantastic resources on Faith, Family, and Fun at Crosswalk.com!
Want to grow your prayer life? The So Much More Podcast shows you how to create space to be with God. This podcast, hosted by Jodie Niznik, introduces you to two types of scripture experiences: Lectio Divina and Imaginative Prayer. Join our growing prayer community today!